U15 Div. 1 Final, November 19th, Lions vs Alpha Quashers
By
Will Moore
·
1 minute read
The Lions first final after three successive finals days - would it be third time lucky?
After a rapid break owning to a late start for the semi final, the Lions prepared to face the Quashers in the final for a 16 overs limited game. The Lions won the toss and elected to bat first, preferring to make the Quashers chase.
The Lions opened with their usual pairing of Taiga and Timmy, and like the semi final each again stayed in for the maximum permitted balls (scoring 32 and 35 runs respectively). Noah was up third but was caught by M. Mukesh off a ball from N. Parmar on 2 runs. Kaede was also unfortunately run out by N. Parmar for 4 runs, but Kirren and Jo batted to the end of the 16th over, each scoring 18 runs to leave the Lions on 125/2. Could the Lions stop the chase by the Quashers?
The biggest threat to the Lions position was the Quashers star player N. Parmer. Through good bowling and excellent field work, the Lions managed to limit the runs even though N. Parmer batted to his maximum permitted balls, eventually retiring for 26. Several other Quashers put up spirited fights and built up scores, however the run rate was not sufficient to turn the game in their favour. Across all fronts the Lions fielding was excellent, with any stray bowl being safely collected by the wicket keeper, Taiga, who as Captain was keeping a tight control of the fielders positions. Jo also picked up his first two wickets for the Lions. In the end the Quashers achieved 95/4 after 16 overs - giving the Lions their first Under 15 League Final win!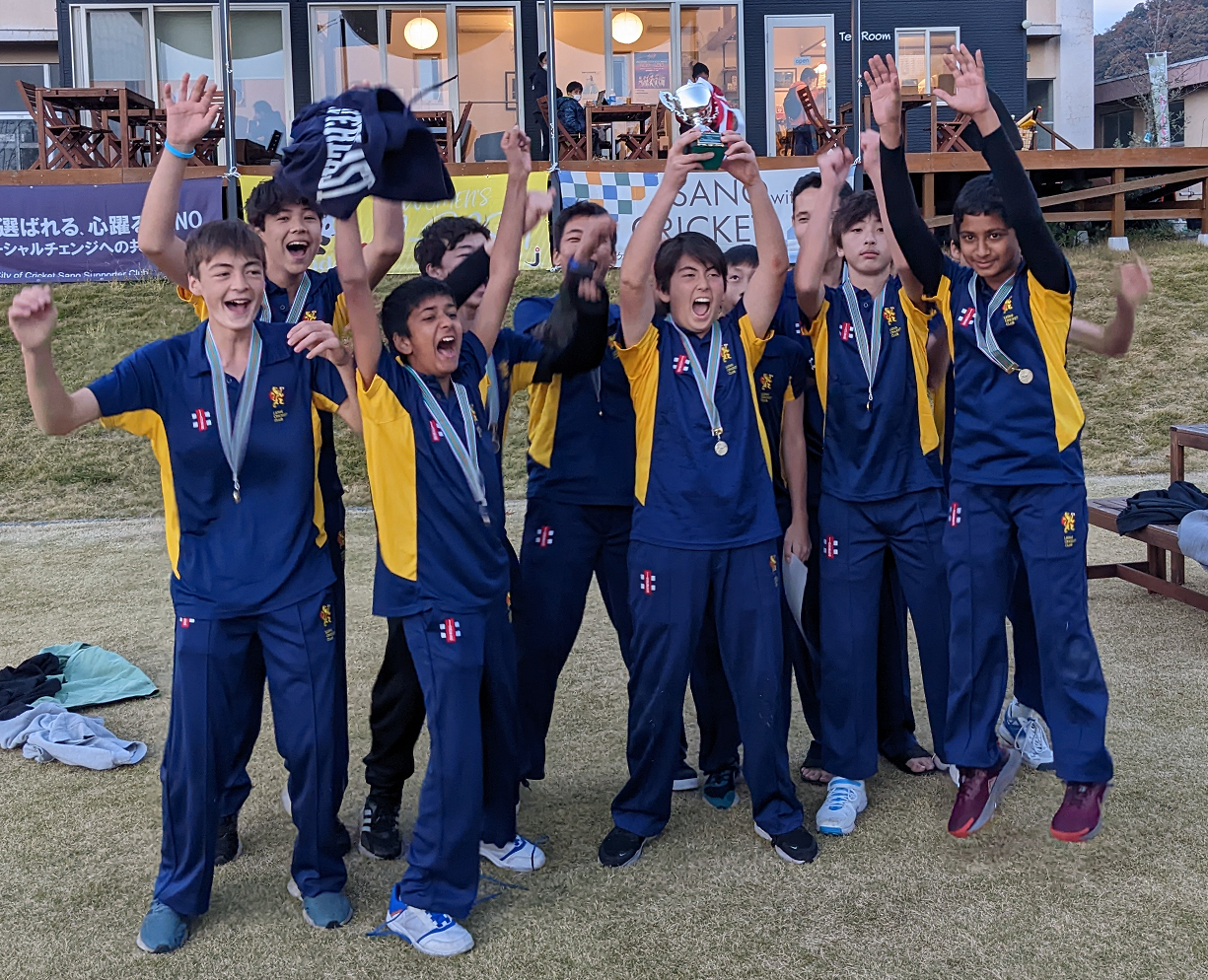 Stats: Highest scoring batsman : Timmy (35), best batting strike rate : Jo (180), most wickets : Jo (2-19), best bowling economy : Timmy (3.7).

Player of the Match: Taiga

Team: Taiga Hague (Captain, Wicket Keeper), Leo Wisessintu, Timothy Moore (Vice-Captain) Kirren Hollow, Shreyas Chandwadkar, Kaede Sommer, Hugo Wallace, Noah Michalski, Ryoga Minami, Nived Nambiar, Jo Meekcoms.